A javascript slide maker for HTML files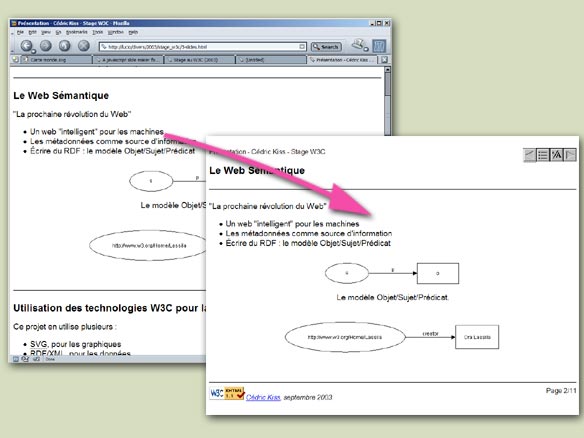 Le JavaScript SlideMaker de Cédric
JavaScript SlideMaker est un petit script pour transformer un fichier HTML en slides (ou en "transparents", mais on utilise plus généralement un vidéoprojecteur), en vue d'une présentation.
Les fichiers à posséder pour utiliser ce script :
Cette archive contient :
Le script ;
les images pour la navigation (flèches →, ← etc.) ;
une aide/présentation, sous la forme

d'

un exemple complet ;
et un "fichier-école" à copier/coller pour faire une nouvelle présentation.
---
Cedric's JavaScript SlideMaker
JavaScript SlideMaker is a tiny script that can convert an HTML file to several slides.
Required files are:
This archive contains:
The script;
Navigation images (→, ← arrows, etc.);
a tutorial (in French),

as

a concrete example;
and a template you will just have to copy/paste to make a new presentation.
---

Last update on $Date: 2003-10-07 $ by $Author: cedric $